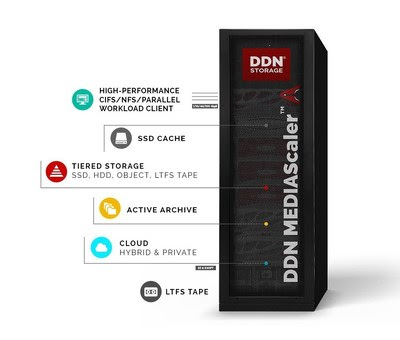 SANTA CLARA, Calif., April 12, 2016 /PRNewswire/ -- Fortifying its leadership in high-performance, high definition, rich media storage, DataDirect Networks (DDN) today announced the availability of the new DDN MEDIAScaler™ Converged Media Workflow Storage Platform. MEDIAScaler 2.0, the world's fastest, densest, most scalable media storage platform manages the complete workflow from ingest to archive and the cloud in a single, unified appliance. Designed for use throughout post-production, broadcast and content delivery, the new MEDIAScaler delivers the power to accelerate highly concurrent media workflows, a wide range of media formats, and offers end-to-end digital content management from high performance ingest and processing to cloud collaboration and active archiving. Available today, the MEDIAScaler 2.0 platform will be showcased in the DDN booth at the upcoming NAB Show 2016, April 16-21 in Las Vegas.
DDN MEDIAScaler™ 2.0, the World's Highest-Performance Media Workflow Storage Platform
"Data rate is the biggest challenge in high-performance media workflows. The size of video frames are increasing due to higher resolutions such as 4K and 8K, high dynamic range (HDR), higher frame rates (HFR) and more cameras simultaneously capturing content per project. New format standards like IMF are creating more efficient distribution standards but require more metadata and customized content during production," said Tom Coughlin, founder and lead analyst, Coughlin Associates. "To address these challenges, today's media workflows require a data infrastructure that can manage every aspect of the media lifecycle coherently and offer the highest levels of performance. At the same time this infrastructure must be simple to install, configure and manage while delivering massive per client performance, supporting collaborative environments, content distribution and the latest processor and interconnect technologies. DDN's MEDIAScaler 2.0 provides technological innovations for Media and Entertainment storage that will help customers meet their data growth, access and workflow challenges."
With increased speed, density and scale, MEDIAScaler 2.0 builds on DDN's award-winning MEDIAScaler platform and solves the ever-increasing data access challenges faced by high-performance media workflows. DDN MEDIAScaler 2.0 delivers a best-in-class solution that allows end-to-end media workflows to be managed within a single platform—across ingest, editing, transcoding, distributing, collaborating and archiving. New MEDIAScaler 2.0 advantages include:
World's fastest converged platform for media workflows: new custom-designed hardware platform delivers 42 GB/s throughput for 40 concurrent uncompressed 4K streams on a single system;
Supports industry's latest high resolution formats: includes 4K, 8K UHD, HDR and IMF;
Delivers full native performance from the latest SSD technologies: NVMe and SAS SSD integrated by PCI-e fabric delivering low latency, high performance to embedded applications and file systems;
Industry-leading density: up to 14 PB in one, 2-rack appliance; and
Broad industry certifications: including Vizrt, SGI, Rohde & Schwartz, Dimension Data, Arris, Dalet and Tiger Technology.
With higher bandwidth than traditional scale-out NAS and a unified storage infrastructure that accelerates media applications that have historically been bottlenecked by traditional NAS performance, the new MEDIAScaler achieves unprecedented performance with up to 6GB/s throughput per media workload client, more than 40 concurrent uncompressed 4K streams on a single system and 800 percent faster ingest than its nearest competitor. It provides industry-leading density and massive scalability for core workflows, delivering 2x more density and 20x the scalability of its closest competitor for an all-in-one turnkey solution that overcomes scale, performance and cost hurdles.
"The demands of today's media workflows are putting pressure on organizations to deploy high performance, scalable solutions that break down the bottlenecks and complexity of traditional NAS and scale out architectures for workflow management," said Molly Rector, CMO, executive vice president product management and worldwide marketing, DDN. "DDN delivers innovative solutions tailor-made to support the unique needs of high-performance media workflows, including simplified management and collaboration."
"The ability to quickly access archived footage is critical to a high performance post production environment," said Tab Butler, senior director of post-production and media management at MLB Network. "Being able to quickly produce content with historical footage combined with partial file restored clips from games is essential to supporting our business operations. With DDN's MEDIAScaler, we've been able to simplify our disk storage management, while increasing our network attached storage within our archive system. The four 40 Gigabit ports on each MEDIAScaler controller enable faster access to content, while allowing more content to stream from more tape drives simultaneously, allowing us to scale to meet our growing needs."
With seamless tiering capabilities, the highly-acclaimed MEDIAScaler platform supports file storage, object storage, active archive, cloud and tape to enable customers to retain large media content in high performance archive or remote locations, easily and cost effectively. For ultimate control over data proximity and availability, MEDIAScaler provides automated policies that tier data based on an organization's requirements and provides a single file system view of all data—regardless of location. Other capabilities of the DDN MEDIAScaler platform include:
Scales effortlessly to 100s of GB/s of performance and PBs of capacity starting with the smallest configuration and scaling non-disruptively with additional MEDIAScaler building blocks;
Enables cloud-based workflows by integrating S3, OpenStack/Swift, and WOS Rest interfaces for simple and straightforward access;
Provides high-performance parallel workload clients that scale linearly with Client additions;
Minimizes TCO with scale up and scale out options locally, and the industry's highest density storage; and
Provides peace of mind with simplified and automated tape backup, disaster recovery, synchronous and asynchronous replication, and erasure coding.
"Based on a converged media storage infrastructure that accelerates media applications, DDN's MEDIAScaler offers unified data across performance storage, active archive and cloud for global collaboration and content distribution enabling media organizations to source, install and manage a single resource to serve all of their most demanding NAS workflows. And with support for the industry's latest technologies, MEDIAScaler provides investment protection for many, many years to come," added Rector.
The high-performance MEDIAScaler 2.0 Converged Media Workflow Storage Platform is available and shipping today. To schedule a demonstration at NAB Show 2016, please register here.
More on DDN MEDIAScaler 2.0

DDN MEDIAScaler Product Brief

More on DDN End to End Storage and Big Data Platforms

More on DDN at NAB 2016

More on DDN's Media and Entertainment Customers

Follow DDN: Blog, Twitter, LinkedIn and Facebook
DataDirect Networks (DDN) is the world's leading big data storage supplier to data-intensive, global organizations. For more than 15 years, DDN has designed, developed, deployed and optimized systems, software and storage solutions that enable enterprises, service providers, universities and government agencies to generate more value and to accelerate time to insight from their data and information, on premise and in the cloud. Organizations leverage the power of DDN storage technology and the deep technical expertise of its team to capture, store, process, analyze, collaborate and distribute data, information and content at largest scale in the most efficient, reliable and cost effective manner. DDN customers include many of the world's leading financial services firms and banks, healthcare and life science organizations, manufacturing and energy companies, government and research facilities, and web and cloud service providers. For more information, go to www.ddn.com or call 1-800-837-2298.
Sr. Director of Marketing
IGNITE Consulting, on behalf of DDN
Linda Dellett, 303-439-9398
Kathleen Sullivan, 303-439-9365
ddn@igniteconsultinginc.com
©2016 All rights reserved. DDN Storage, DDN and MEDIAScaler are trademarks owned by DataDirect Networks. All other trademarks are the property of their respective owners.